Flexline in Your Studio
Effective programming is the best way to create consistency within your group fitness department.  It creates a roadmap for your trainers and allows your sales staff to successfully sell the offering. The content below provides a glimpse into our programming philosophies and techniques.  To ensure our customers are successful on day one, we offer training with video on demand, virtual live training sessions, in-person classes, and written programming manuals.
Group Classes
Flexline Fitness Programming in a 20+ person synchronized class on 11 stations. We have 5 core principles when designing programming, we strive to be unique, social, fun, engaging, and motivating.
Strength and Conditioning
Air resistance allows players to train at the speed they play – Fast. We start with explosive and quick movements, power exercises then move to multi-joint movements and finish with single joint exercises.
High-Intensity Functional Training
With Flexline, you don't have to set up complicated circuits and manage several different groups. You can provide a workout with the right amount of attention on each client, keeping everyone safe, and motivated.
Smart Bar Exercises
An introduction to various exercises with the Flexline Smart Bar. For the first time, you can adjust weight on the fly with a squat bar, enabling never done before exercises while virtually eliminating set up and set down injuries.
Leg Exercises with Smart Handle
This video provides an overview of unique leg day exercises utilizing Flexline Smart Handles. You will learn how to perform Step Ups, Kick Backs, Abductor and Adductor, Hip Flexor, and Standing Kick Backs.
Athletic Training with a Hip Belt
Speed, agility, and power – the Air DCT brings it all to the performance minded client. This video demonstrates basic explosive moves utilizing a hip belt: Jump Squats, Bear, Crawls, Squat Rows, Low Shuffle, and Cone Work.
Failure Zone
Are you still training TO failure? How about training AT failure? In this video, learn about the 'Failure Zone' and how Dynamic Cable Trainers are uniquely positioned to provide the most efficient strength training workouts possible.
Line of Resistance
Learn how lifting free weights differs from lifting with an Air DCT and how this impacts your workout. This video provides a whiteboard demonstration of declines and inclines and provides example lifting angles.
Introduction to the Dynamic Cable Trainer
Mind, body and machine – learn how the Air DCT brings it all together. This video includes an overview of the Smart Handles and on demand weight. It also provides an introduction to the touch screen and performance metrics.
Programming Goals
Whether your client is looking to improve their physique, gain athletic performance, or simply improve their wellness, Flexline Programming has you covered.
Physique & Strength
Flexline Programming offers unassisted drop sets, negatives, partials, and pyramids. For this client type, we introduce the failure zone early and often for an intense and efficient workout. Pushing the limits has inherent risks, on demand weight and the use of air resistance keeps your clients safe and healthy. 

Performance & Power
Flexline Programming allows strength coaches to keep the team together in the weight room. No one can slack off, everyone is getting appropriate attention, and most importantly, you're training as a team – holding each other accountable and building chemistry. Using air resistance allows athletes to train at the same speed they play – Fast.
Wellness & Longevity
Flexline Programming can be applied across many different fitness levels in the same class. A wide range of exercises combined with personalized intensity maximizes versatility. Get rid of complicated circuits in large groups, keep everyone synchronized with the right amount of attention on each client, keeping everyone safe, and motivated.
Sample Programs
Classes designed by the Flexline Programming Team are typically 30 or 45 minutes.  Flexline's ease of use and on demand weight create an opportunity to decrease class time while maximizing work done in less than 45 minutes. Below we have outlined a handful of popular Flexline Classes. These are just the tip of the iceberg. Please get in touch to discuss your programming needs and how Flexline can assist.
High-Intensity Functional Training
The one-stop shop for a full body strength workout and calorie-torching cardio.   High-Intensity Functional Training will increase your anaerobic threshold leading to better overall cardiovascular endurance while the full body strength training will make you stronger and leaner.  Every interval will last 45-seconds, switching between cardio and strength for 3 sets of each exercise.  This workout is created to keep you moving.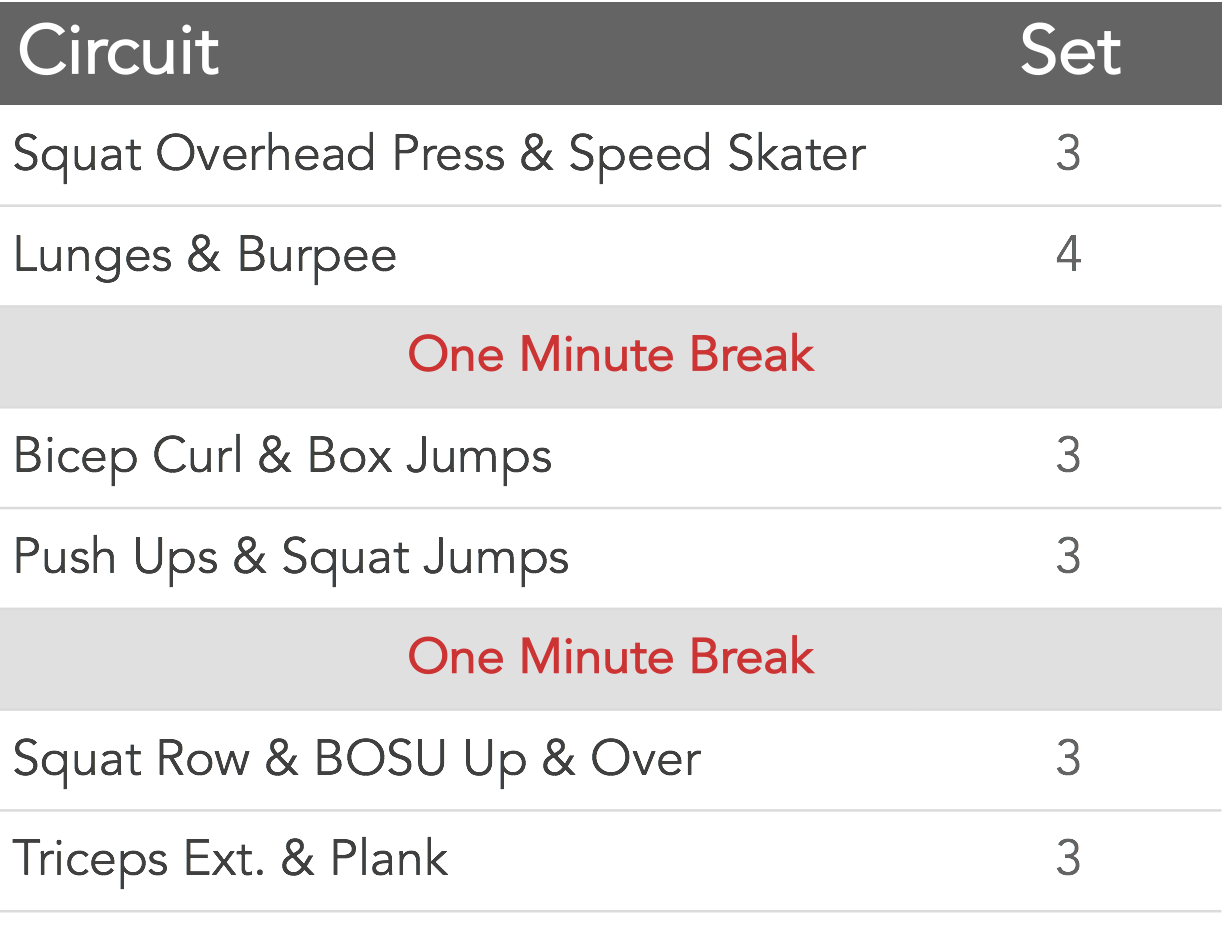 Notes:
– 19 Total Set
– 45-minute class
– Each set is 2-minutes (45 Second / 15 second rest / 45 seconds HIIT / 15 second rest)
– There should be 6 circuits with 2, 3, or 4 sets
– After 2 complete circuits there is a 1-minute break
Upper Body Strength
For those who have worked hard to build upper body strength and hypertrophy and now feel they've plateaued. This workout will push you through to the next level.  The advanced lifting techniques used in this class will leave your upper body fatigued yet you'll feel energized by your new understanding of how to get your body into the failure zone.  You'll complete a total of 9 exercises anywhere from 2-4 sets.  Volume is the name of the game with this workout.
Notes:
– 30 total sets
– Each set is 1.5 minutes (max 45 sec work / 45 sec rest)
– Nine total upper body exercises (1-3 back, 1-3 chest, 1-3 shoulder, 1-2 bicep, 1-2 tricep)
Full Body Strength
Whether you are new to lifting or a seasoned pro, this full body strength workout will motivate you to come back for more.  For those new to lifting and the benefits of strength training, this workout will teach you form and proper execution of movements.  For the advanced lifter, you'll have the ability to enter the failure zone with each exercise as each major muscle will be tested once (3-4 sets of each).
Notes:
– 30 total sets
– Each set is 1.5 minutes (45 sec Flexline / 45 sec rest)
– Nine total exercises (2-3 legs, 1-2 back, 1-2 chest, 1 bicep, 1 tricep, 1 shoulder)
– Exercise 8 and/or 9 will not have a rest. Instead use this time for abdominals