Flexline Air DCT
Say goodbye to dumb and hello to smart. Flexline's patent pending AIR Dynamic Cable Trainer (DCT) couples pneumatic pistons with Bluetooth enabled Smart Handles, allowing you to adjust weight on the fly at the touch of a button and quantify your workout. Welcome to a new era in strength training: the perfect weight at every moment.
Smart. Flexline Smart Handles are constantly working with you, adjusting on the fly and tracking your every move.
Safe. No risk of dropping barbells on the chest or dumbbells on the toes. Ease in and out of position without straining or awkward movements.
Results. Win in the failure zone. Decide what intensity level you want, stay in that zone as long as you want, reducing workout time and maximizing results.
Revenue. Whether you're operating a large facility, group studio, therapy clinic, or a personal training business, Flexline uniquely supports growth (more here).
Get a Handle on the Newest Vision in Fitness
User experience is a core value at Flexline. Every touch point matters. We spent years perfecting our Smart Handles to radically change your individual and group workouts.
On-The-Fly. Each Smart Handle has a plus and minus button conveniently positioned by your thumb allowing you to wirelessly adjust weight at any time with a simple touch of a button.
The Power of Three. Stations come equipped with three handles, allowing you to effortlessly shift between exercises on one station without changing attachments.
Positions. Smart Handles effortlessly slide up and down the aluminum columns into nine positions to maximize experience, versatility and creativity.
Smart Bar. Our Smart Bar attaches to the handle carriages and wirelessly adjusts on-the-fly to maximize your squat, hip thrust, lat pull, bench press and so much more.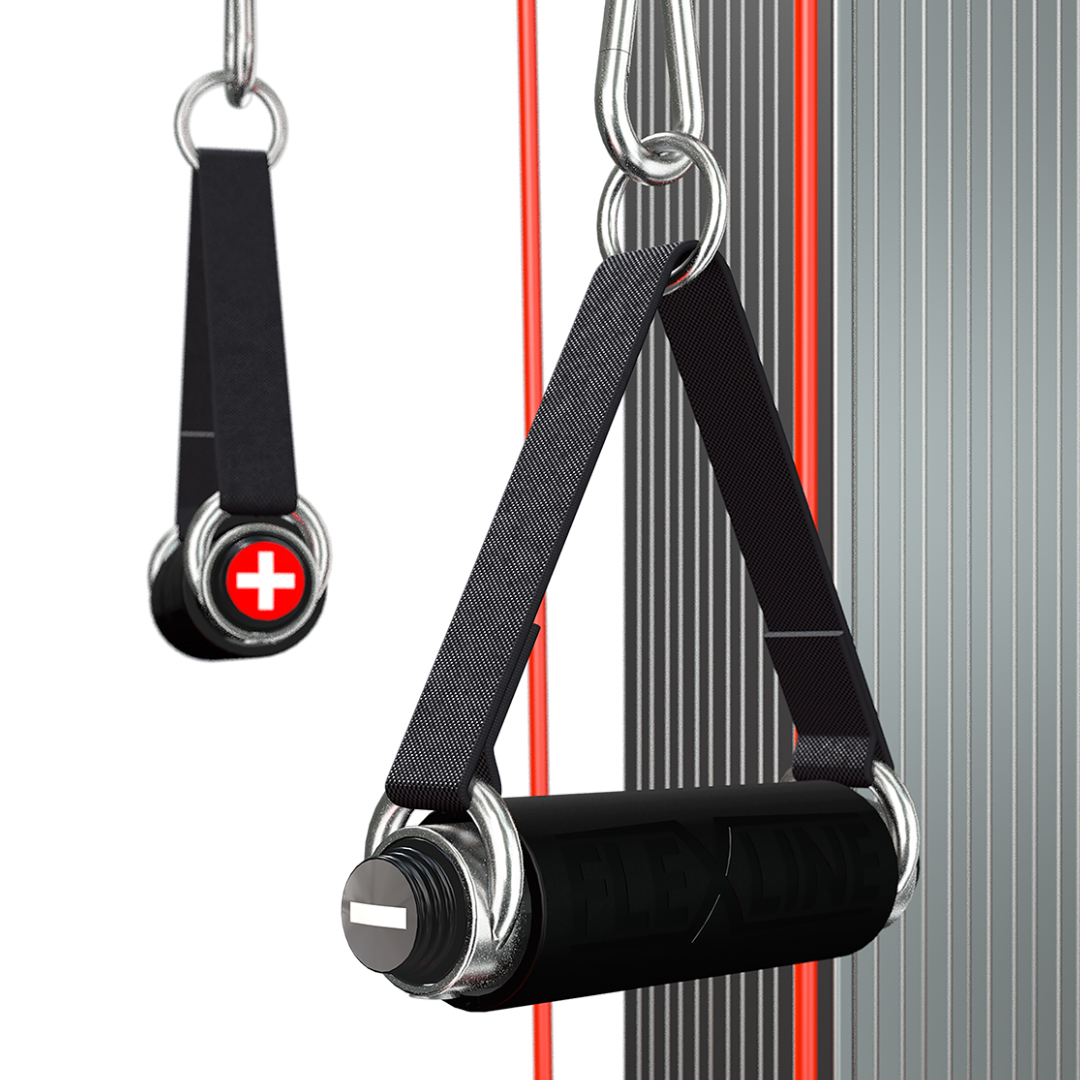 Small Space. Big Results.
With its modular design and small footprint, Flexline gives you the freedom to configure your own setup adding stations as you grow.
Dimensions. A single station is 7′ wide x 30″ deep x 8′ tall. Each additional stations add 6'1″ to the total width. To maximize exercises, we suggest 8′ of floor space.
Compressor. One Flexline AirPod Plus can provide compression for more than 10 stations. The AirPod's condensation is self-evaporating, the pressure is self-regulating, and the motor is self-cooling and oil-free.
Quantified
An onboard computer and touchscreen track and display heart rate, watts, weight and other performance metrics.
Pull-up Bar
Station includes a pull-up bar for ab-straps, suspension training equipment and various other attachments.
Station
STATION HEIGHT
8′
SINGLE BASE WIDTH
7′
ADDITIONAL BASE WIDTH
6.1′
DEPTH (COLUMN)
30″
IDEAL DEPTH (WORKOUT SPACE)
8′ x 6.1′
STATION WEIGHT
220 lbs. (Header 80 lbs.; Each Column 70 lbs.)
BOLT DOWNS
Floor Mount: 4 Bolts per post
Wall Mount: 2 on header
RESISTANCE RANGE
0-75 lbs per cable
0-150 lbs per handle
0-300 lbs per squat bar
STATIONS PER COMPRESSOR
Up to 20
POWER
Standard Wall Socket (90-260V, 50-60Hz). Each station draws 20W. Up to 50 stations can be linked together on one source.
Handles
HANDLES PER STATION
3 standard, up to 4
POSITIONS
9 different heights
BUTTONS
2 per handle: +/-
CONNECTIVITY
Bluetooth 4.0
BATTERY
CR123A Lithium 3v
EXPECTED BATTERY LIFE
Up to 12 Months
AirPods

HEIGHT
28″
DIAMETER
20″
PRESSURE
115 psi
FLEXLINE AIRPOD (800W)
Powers 1-6 stations
Dedicated 15A circuit
FLEXLINE AIRPOD PLUS (1200W)
Powers 1-20 stations
Dedicated 15A Circuit
Touchscreen
SIZE
3.2″
RESOLUTION
320X240
ENGINE
Raspberry Pi
Accessories
PULL-UP BAR LENGTH
42″
SMART BAR LENGTH
48″